Beyond Burgers and Pizza: Customer Demand for Variety Drives Food Franchising Trends
With over a million restaurants in the U.S., food franchising has given entrepreneurs countless opportunities to own a business and bring communities together. Brands like Chick-fil-A and Burger King are some of the most popular food franchises in the country, with broad appeal and replicable models. But fast-food franchising has changed over time.
Trends in Food Franchising
Even before the Covid-19 pandemic, restaurants had 16% fewer on-site diners. As a result, fast-food franchises have been focusing on drive-thru orders, with about 39% of customers choosing convenience over dine-in experiences.
Streamlining processes through automation will also likely be an important trend moving forward. For example, a McDonald's franchise in Texas eliminated the dine-in option and moved to app ordering and a conveyor belt delivery system. The small footprint decreases labor costs amid worker shortages and rising wages. Taco Bell's Defy concept is another example of how a fast-food brand can test technology.
Franchises are also exploring dual branding opportunities. With a multi-branded restaurant, franchisees can save on the costs of constructing another standalone location. Furnishings, equipment, employees, and more can also be shared. For example, by pairing Schlotzsky's and Cinnabon franchises, the same employees can take orders, make the food, and process payments.
From wings and BBQ to coffee and poké, there is a category for any entrepreneur to succeed in food franchising. Here is a look at the top food categories and their benefits.
Top Food Franchises in Every Category
Wing Franchises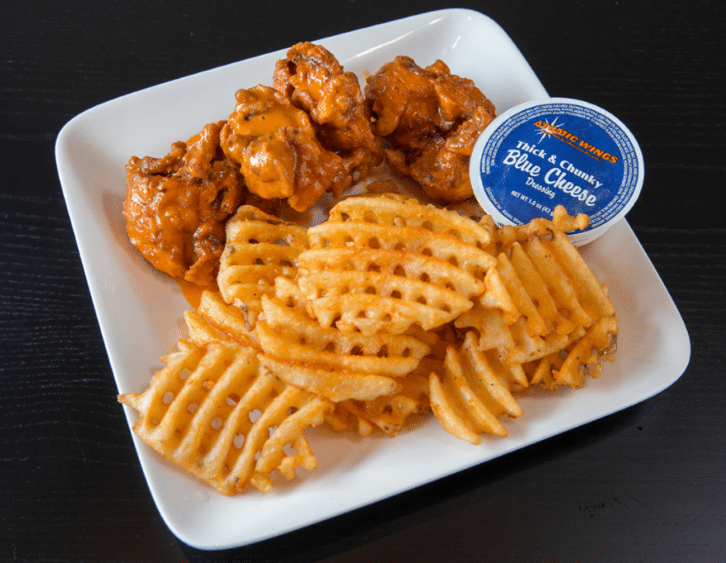 Wing franchises are not just for Super Bowl Sunday. Popular with sports fans — and wing fans — all year round, wing franchises offer a fun alternative to burgers and pizza. Franchise owners can offer the wings with carryout, delivery, and dine-in orders. Brands like Buffalo Wild Wings and Hooters are synonymous with wings, but Wings To Go and Atomic Wings also put their own twist on the popular food option.
Coffee Franchises
With strong demand, scalable models, and feel-good products, it's nearly impossible to go wrong with a coffee franchise. Franchise owners also benefit from multiple revenue streams, including frozen drinks, teas, light meals, and branded merchandise. Brands like Dunkin' and Bad Ass Coffee of Hawaii allow you to take advantage of this billion-dollar industry.
Burger Franchises
Burgers are an essential part of American culture and are a staple at some top fast-food restaurant franchises. With a feel-good product and strong demand, burger franchises are a fun investment that adds value to any community. To stand out, many burger franchises offer plant-based options. While McDonald's and Burger King are household names, Burgerfi and MOOYAH have also established themselves in the market.
Pizza Franchises
Pizza is the world's most popular fast-food for a reason. After all, who doesn't love cheese on bread with sauce? Although staffing can be an issue with any restaurant, pizza franchises are fun and have a simple business model. Marco's Pizza, Little Caesars, and Papa John's are big names in the category.
BBQ Franchises
With a BBQ franchise, the summertime staple can be enjoyed year-round. BBQ franchises allow business owners to become part of a billion-dollar industry. Franchisees can stand out by offering carryout, delivery, merchandise, and alcohol while cultivating a family-friendly atmosphere. Burgers, hot dogs, ribs, and steak are popular options at BBQ franchises. VooDoo BBQ & Grill and Mighty Quinn's Barbeque are top brands in the BBQ category.
Crepe Franchises
With a crepe business, franchise owners can bring a little French inspiration to any neighborhood. Crepe franchises offer family-friendly business hours and lower start-up costs. Some of the top brands in the category are Crepe Delicious and Sweet Paris Crêperie & Café.
Hot Dog Franchises
Hot dogs are so beloved that they are celebrated yearly on National Hot Dog Day. Americans spent over $7.5 billion on hot dogs and sausages in 2021, meaning there is year-round appeal and demand for this traditional summertime food item. Brands like The Original Hot Dog Factory and Crave Hot Dogs & BBQ meet that demand.
Poké Franchises
Poké franchises allow business owners to offer healthy alternatives to burgers and pizza. Franchisees benefit from cheaper buildouts and lower overhead since there's little equipment needed to prepare poké. KOIBITO POKĒ and Aloha Poke Co. provide franchisees with the opportunity to enter this growing industry.
Ice Cream Franchises
Ice cream is an irresistible treat for people of all ages. With over 6.4 billion pounds of ice cream and other frozen desserts produced in the U.S. each year, these sweet franchise opportunities allow investors to meet that demand. Franchisees can run an ice cream business on a seasonal basis or from a mobile unit. Frios Gourmet Pops and Baskin-Robbins are some of the top franchise brands in the category.
Donut Franchises
Donut shops are responsible for over 134,000 jobs and billions of dollars in sales. With multiple revenue streams and a feel-good product, donut franchise opportunities are a fun and worthwhile investment. The top franchises in the category are Duck Donuts and Krispy Kreme.
Mexican-Inspired Franchises
When it comes to international cuisine, Mexican food reigns supreme in the U.S. Mexican-inspired franchises allow business owners to take advantage of a $71.66 billion industry. With brands like Taco Bell and QDOBA Mexican Eats, franchisees can offer popular food in a fun, family-friendly environment.
Juice Franchises

While fast-casual restaurants are typically considered unhealthy, juice franchises are all about healthy eating. Most offer cold-pressed juices, juice cleanses, smoothies, avocado toasts, acai bowls, and more. Clean Juice, Nékter Juice Bar, and more are part of the booming U.S. juice market. With most brands, franchise owners offer multiple revenue streams and can benefit from a strong, people-centric culture.
Chicken Franchises
With trends like the 'Chicken Wars,' chicken franchises are ruling the roost in the fast-casual industry. NBA legend Shaquille O'Neal, majority owner of Big Chicken, and other big-time investors show that chicken franchises are worth looking into. With brands like Chicken Salad Chick and KFC, you can be at the top of the pecking order in the chicken category.
Sports Bar Franchises
Even when March Madness and the Super Bowl aren't in season, sports bar franchises attract sports fans (and nonfans) alike. Franchise owners benefit from higher margins on alcohol and a rewarding business that brings communities together. Some of the best sports bar brands include Shuckin' Shack Oyster Bar and Bar Louie.
Salad Franchises
With a salad franchise, business owners offer healthy food options and a simple model. Additionally, franchise owners enjoy multiple revenue streams, like online ordering and catering options, and lower startup costs in comparison to other traditional fast-food restaurants. Coolgreens and Salad Station are some of the best franchises in the category.
Cupcake Franchises
No matter the occasion, cupcakes just make sense and are beloved by all. Cupcake franchises allow investors to meet the demand for the popular treat. A simple business model and feel-good products add to the appeal of cupcake businesses. Wicked Good Cupcakes and Nothing Bundt Cakes are the top options in the category.
Vegetarian Franchises
Vegetarian franchises give non-meat eaters tasty options. Menu items include vegan burgers, juice, acai bowls, and more. Even before consumers became increasingly health conscious, World Vegetarian Day recognized the health and environmental benefits of vegetarian and vegan diets, which include reduced risk for heart disease and lower greenhouse gas emissions. Entrepreneurs who want to offer meatless options in the fast-casual space can look into VeganBurg, Daily Veg, and more.
Breakfast Franchises
Breakfast franchises allow business owners to operate at family-friendly hours, have increased flexibility, and reach a younger fan base. More than two-thirds of Gen-Zers order breakfast via a third-party delivery service at least once a week, and they appreciate the gluten-free options that breakfast brands offer. Additional revenue streams include merchandise and alcohol sales, catering, online orders, and more. While Denny's and IHOP are American icons, Turning Point Restaurants and the Toasted Yolk Cafe are emerging in the multibillion-dollar industry.
Tea Franchises
While tea is typically thought of as a treat for stuffy English people, that's not true today. Tea franchises have caught steam with Millennials and Gen-Zers, who are setting industry trends and adding boba, matcha, infusions to the mix. TeaCupFuls, Gong Cha and more are meeting the demand for tea for these trends.