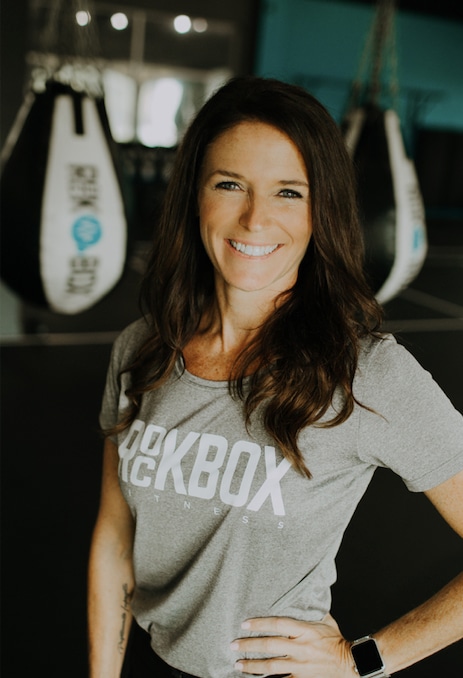 April Fisk describes herself as a builder and that's exactly why she joined RockBox Fitness as President in September 2020. She refers to the boutique fitness franchise as "a gritty, exciting brand with a ton of potential." And Fisk should know. She brings a wealth of experience to RockBox, including serving as VP of Operations for Orangetheory fitness and helping build the 24-hour fitness brand, Snap Fitness. "RockBox couldn't be a better fit for me," Fisk says.
The former college athlete and volleyball coach didn't know anything about franchising back in 2013 when she answered an ad for a part-time data entry position at Snap Fitness. At the time, she simply wanted a job that would give her flexibility while her children were small. What she got was a learning ground where she would have hands-on experience building a major fitness franchise brand.
A career in fitness franchising
In her time at Snap Fitness, Fisk helped foster the brand's growth to more than 1,200 units. "When I started, there were only 25 locations," she says. Fisk says the experience positioned her to learn the industry from a unique perspective.
In December 2018, Fisk was recruited by Orangetheory Fitness where she gained insights into the boutique brand's massive success. Fisk says both experiences made her uniquely qualified for her position with RockBox. They also made her realize what really drives her. "It hit me that what I love to do most is build, and that's exactly what I'm doing with RockBox," she says. Having had so many great mentors throughout her career, Fisk is excited to pay it forward. "I want to create leaders and empower people to be great," she says.
RockBox provides a sense of community that people crave.

April Fisk
High retention rates
Fisk says that RockBox marries the best of all the boutique fitness brands out there with an incredible culture. "People can come as they are," she says. "RockBox provides a sense of community that people crave. It's an environment where people can really feel like they are part of something."
RockBox's immersive, high-energy workouts have created a cult-like following. "Our members are extremely engaged," Fisk says. Through COVID, RockBox was able to keep its high retention rates. "We kept it real with members. People leave gyms, but they don't leave relationships," Fisk says.
The culture that keeps RockBox members so engaged starts with the corporate team and goes to the franchisees. "We are looking for franchisees who truly care," she says. "We never want to bring in someone who won't enjoy ownership or won't represent the brand well. We are looking for passion," she says.
The future of boutique fitness
Fisk says COVID will only help the fitness industry—and specifically RockBox—in the long run. "There is growing awareness about the benefits of exercise and wellness in a small group setting. It improves mental heath and confidence, but it also provides the sense of community we all crave," she says. "That is something that will never go away."
Passionate franchise owners
RockBox is looking for passionate franchisees to help grow their brand. Owners can come from most any industry, but should be motivated to inspire fun and fitness in their communities and create an environment that fosters positive change. Here are the qualities of a successful RockBox owner:
Strong sales experience
Business acumen
Management experience
Strong leadership skills
Community- and family-oriented
Outgoing, with great people skills
Health conscious
Ability to follow and execute
a process