EMS Treatments Inspired Austin Wighaman to Ditch Medical Sales for Franchise Ownership
At 41 years old, Austin Wighaman left his lucrative career in medical sales to become a BODY20 franchisee. He made the leap after a firsthand, life-changing experience with BODY20's electro muscle stimulation, or EMS, treatment. Wighaman made his move at the right time: The market for EMS treatments was $1.1 billion in 2022 and will reach a projected $1.85 billion by 2032, according to Factmr.com.
But the timing was a mere coincidence. His Achilles tendon ruptured in February 2020, just about the time that the pandemic was heating up. With the world shut down because of Covid-19's sometimes-fatal contagion, Wighaman was getting around using an awkward knee scooter. Few places were open to offer training and recovery that would speed up his recovery.
Then, following the recommendation of a colleague, Wighaman decided to give BODY20 a try at its location in Boca Raton, Fla. After all, what did he have to lose?
BODY20's M.O.
Most people know you only use 10% of your brain. But most don't realize you only use 30% of your body. BODY20 is here to change that. By combining personalized one-on-one training with body gear that sends electrical impulses into the tissue of your body's muscles – the way your brain does – BODY20 helps every body workout to 100%.
Wighaman was a believer after only six sessions that put him back on his own two feet. "The results were astounding," Wighaman says. He was so excited by his result that he wanted to bring the technology to his hometown of Austin, Texas. About a year later, Wighaman opened his own BODY20 franchise in the Austin suburb of Bee Cave and has been running his successful boutique fitness studio ever since.
The career move represents quite a transition for Wighaman, but one with no regrets. "I had a lifelong dream of owning and operating my own business. And I'm pretty much the poster boy for BODY20. I can tell people what it did for me, and I think it persuades people to try EMS to tone and shape up, become stronger, and to help them recover from injuries the way I did."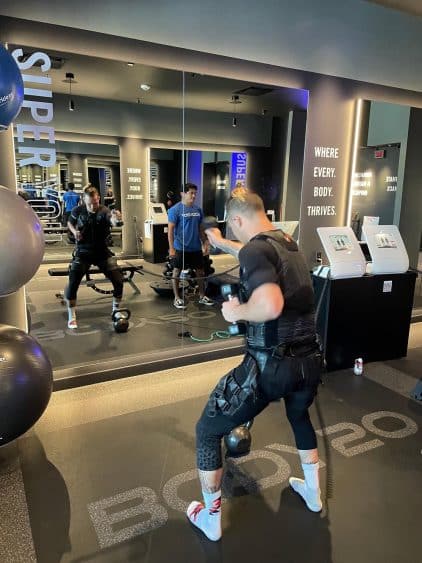 BODY20's Mission
BODY20's mission is to change the way people workout by helping EVERY.BODY.UNLEASH their superhuman potential to strengthen their body and their life through time condensed technology training. In just 20 minutes per week, our goal is to materially impact the other 10,060 minutes in the week.
BODY20 says its EMS training can help clients in various ways: burning calories, reducing cellulite, toning up and building muscle. In just a 20-minute training session, a BODY20 coach assists clients one-on-one, with the stimulation causing more than 150 times the muscle contractions than they would experience during a conventional workout. BODY20's EMS training can be used with clients of any fitness level.
Clients don't need to heft a weight or use typical gym equipment, according to BODY20. "It's easy, quick and effective," Wighaman says. "I know because I've been a client myself."
Other clients shower similar praise on their BODY20 workouts. "I'm in and out in under 30 minutes, which beats the two-hour commitment of my old gym, but the results are even better," says a client named Matt. Another, Erica, says, "I'm in love with the strength workouts. They're efficient and very effective. I have a hard time feeling a good burn in my abs during normal workouts, but I always do with BODY20 strength sessions."
Benefits of EMS Technology
BODY20 lists many benefits from EMS sessions, including:
EMS can use a targeted approach, stimulating a select group of muscles, or can be used as a full-body training tool.
The lack of heavy weights in BODY20 sessions enables a high-intensity workout with minimal impact on joints, bones, nerves and muscles.
Male and female BODY20 members have seen reduced fat in problem areas.
BODY20 sessions lead to a quicker increase in muscle mass. Studies have also shown that EMS is effective at speeding muscle rebuilding after surgeries.
BODY20 sessions promote blood circulation in muscles, leading to a release of muscular tension and knots.
BODY20 sessions are particularly effective at improving core strength, fostering good posture and injury prevention.
BODY20 Franchisees
BODY20 is currently expanding throughout the United States. Potential franchisees appreciate that a BODY20 studio requires only a small footprint and has a low staffing requirement; memberships produce recurring revenue. Franchisees should be self-starters who want to get on board with the brand's technological breakthroughs in fitness. To learn more about franchise opportunities with BODY20, please visit https://body20.com/franchise.