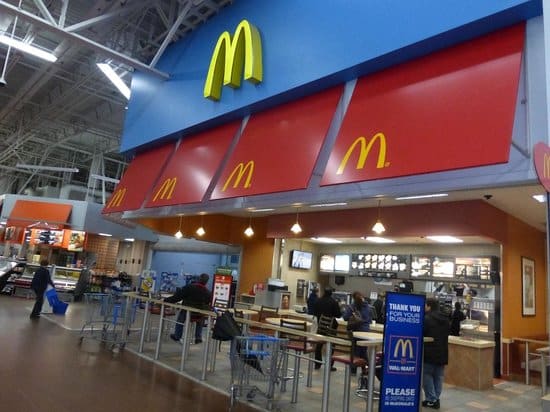 Feeling the pinch of the pandemic, many McDonald's shops are pulling out of Walmart stores because of a steep decline in customer traffic. McDonald's will soon close approximately 325 of its Walmart locations, according to a filing with the Securities and Exchange Commission, leaving only about 150 in operation by the end of this summer.
Even in states that have fully reopened after Covid-19 pandemic restrictions, the mega chain has had fewer in-store shoppers because of online ordering with either home delivery or pickup on the retailer's parking lots. And in-store shoppers, leery because of pandemic experts' warnings about transmission of the coronavirus while eating in restaurants, are less likely to linger for snacks or meals. Some reports indicate that a third of customers of McDonald's inside Walmart are store employees.
In addition, Walmart has dented the franchise restaurant's sales by advertising its own competing sandwiches and welcoming additional food vendors such as Ben's Soft Pretzels and Domino's into its stores, according to a report in The Wall Street Journal. As a final blow to profits, McDonald's inside Walmart stores typically have a lower profit margin than standalone locations because they lack drive-through windows, the Journal said.
The fast-food giant has been partnering with the retailer since 1994, and at one time had about 1,000 McDonald's inside Walmart stores. At the beginning of 2020, the discount chain housed about 500 McDonald's, which represents a steep decline from the 800 McDonald's inside Walmarts in 2012. 
McDonald's has had two rounds of closures during the past year; those closures were planned before the pandemic, the Journal reported, but the company expedited them as the Covid-19 crisis heated up. McDonald's chief financial officer said the company shuttered 200 U.S. locations in 2020, with the majority being "low-volume restaurants in Walmart store locations," according to a Fox news report.
Subway franchises closing
Subway franchises are closing for the same reasons as McDonald's: reduced profits and fewer customers. Jim Miller, a Subway franchisee with five in-store restaurants in Michigan, Ohio and Indiana stores, will close four of them by June, he told the Journal.
But Walmart, which wooed the restaurants for their rent payments, is in no way abandoning franchise restaurants within its stores.
Walmart spokeswoman Molly Blakeman told USA Today that the shuttered restaurant spaces "have been freeing up over time. We continue to fill them." Blakeman said Walmart is pursuing "restaurants and services that are really relevant to our customers" as replacements for the departing fast-food restaurants.
Walmart is testing Taco Bell and increasing its Domino's presence, a company spokesman told the Journal. Charleys Philly Steaks, a 600-store enterprise, is on tap to open 10 stores in Walmarts this year, and Saladworks will debut sites inside Walmart this year – probably dozens of them, although the number was not disclosed in media reports. Walmart is also checking into a sushi concept in which it would partner with Hissho Sushi, a wholesale vendor that supplies grocery stores and corporate cafeterias, the Journal stated, and in 2020 it opened a sushi restaurant inside a Walmart in Arkansas.