Home Services Franchises Have Seen an Increase In Demand
It's no secret that the demand for home services in the U.S. is booming right now. From renovations and additions to home decorating, landscaping, cleaning, repair and maintenance, homeowners are putting home improvement franchises in high demand. This is resulting in great opportunities for the entrepreneur seeking to invest in their very own home improvement franchise business.
There are a few reasons for this huge increase in demand. As a nation, we are busier than ever and with the onset of COVID-19, many of us are now working from home, making it more important than ever to improve and enjoy our surrounds. In fact, the Better Business Bureau recently published a report that showed 76% of homeowners in the United States have carried out at least one home improvement project since the start of the COVID-19 pandemic.
Apart from that, many people just don't have the time, know-how or desire to do what this sector of franchises offer. Plus, rather than buying bigger and better homes, a growing number of people in the U.S. are choosing to keep their homes and make improvements. As a result, home improvement businesses are seeing an uptake in the number of customers that want major renovations or minor projects to make their houses a more pleasant place to live.
Furthermore, with the explosion in online and mobile booking services, and the emergence of tech-savvy millennials, it has never been easier to access home service businesses. Major companies such as Google and Amazon are diving into the estimated $400 billion market. Interestingly, Amazon Home Services covers more than 700 types of services!
So why buy a home services franchise rather than run an independent business? Prospective franchisees benefit from established systems along with easier access to a number of resources in comparison to businesses run by independent operators. Another advantage of being a part of a franchise system within this area of business is that it allows for franchisees to take advantage of the brand equity of the franchisor. This advantage is a major benefit because people are very protective of their homes and tend to seek as many assurances as possible that the work they contract will be done properly by trustworthy individuals.
According to Franchising.com, there are six main reasons home services franchises are in such high demand right now:
The constant need for home services
Maintaining and increasing a home's value being of great importance for homeowners both financially and psychologically
An increase in the ability to book online, along with the ability to find information on service providers more easily than before
The increase in dual-income households, leading to more money to spend on home services
Related to number four, homeowners with less time to spare than ever
An aging baby boomer population that wants to stay at home as they age but outsource the maintenance of their homes.
Whether it's everyday upkeep, or emergency requests, there are a variety of franchises to choose from when it comes to home services. Let's take a look at just some of the opportunities available.
Kitchen Remodeling
The kitchen is the heart of the home and when it comes to home improvements, the kitchen is always top of the list. These days, many homeowners are opting to renovate existing kitchens with new cupboards, benchtops and appliances rather than replace with a new one, saving them thousands of dollars. A kitchen remodeling or renovation franchise gives franchisees a great market with a consistently high demand.
Bathroom Remodeling
Bathrooms are one of those areas that get constant wear and tear and start to look dated and run down over the years. That's why bathroom remodeling franchises provide the perfect solution by helping to remodel bathtub and shower liners, replace bathtubs and shower bases/walls all together and even convert an outdated tub to a shower.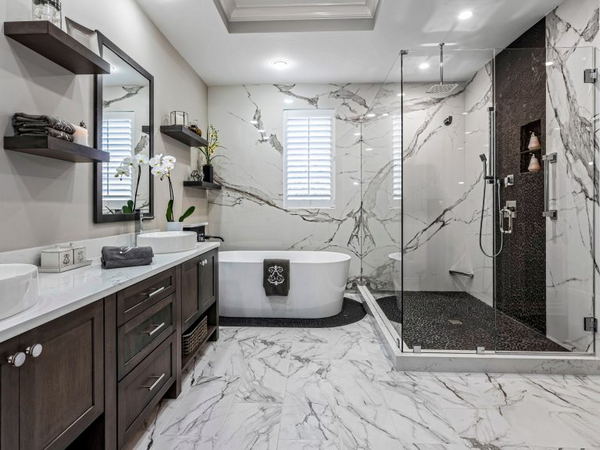 Window Dressings
Adding new curtains or blinds is one of the easiest ways to give your home a brand-new look at little cost. Decorative and functional window blinds are available through many window dressing franchises, which are becoming extremely popular.
Home Additions
Consumers looking to expand their homes can choose from a huge range of options, including adding a room onto their homes, converting a garage, converting their space into a loft, or even adding an extra building. You can choose to invest in any of these home addition franchise industries, which are highly lucrative.
Flooring
New flooring not only enhances the aesthetics of a house, but also allows homeowners to stay in their house more comfortably. A flooring franchise is a great opportunity to generate a steady income and build a successful business.
Driveway Paving
There is nothing that drags the look of house down more than a worn or cracked driveway. That's why driveway paving franchises meet a consumer need and provide a chance to earn a great living.
Landscaping
First impressions count. So, when it comes to curb appeal, one of the most important aspects of your home is landscaping and lawn care. Whether its people staging their home for sale, or those who are time poor and depend on landscaping services for monthly maintenance, including gardening, raking, weeding, and more, a landscaping franchise is a great business opportunity, especially for those who love working outdoors. This type of franchise provides residential services, as well as good partnerships with buildings and offices.
Property Repair
Whether it is a natural disaster or a man-made one, property repair franchises are always in demand. Working with property owners and their insurance companies to make sure that the home is restored back to its original state, property repair franchises are recession-proof, as property damage repair is not a seasonal nor is it something that can be put off for a long period of time.
Cleaning and Maintenance
Life is becoming busier than ever. Gone are the days when engaging a regular cleaner for your home was considered a luxury, it has now become a necessity. And, with many of us now spending more time in the home, keeping our home clean and fresh is more important than ever. Hence, an increasing number of homeowners are opting to pay for the convenience of outsourced assistance.
Did you know, the cleaning service industry brings in a total of $46 billion annually, while residential services are expected to reach over 75 million by 2022!
A lot of residential cleaning services are mobile franchises, with smaller start up fees and investments, as well as a better work life balance. Franchisees can allow their teams of employees to run the business and submit reports, while sitting back and gaining a profit.
Specialty Cleaning
There are also specialty services such as deep carpet cleaning, upholstery cleaning, or air and duct cleaning, for example. These services are not only residential franchise options, but usually come with a long list of industrial customers as well. If you are willing to take on both residential and business clients, it can be a very lucrative business. Some cleaning services are necessary and always in demand such as chimney cleaning and window cleaning, particularly high windows that require particular tools that are not carried by most homeowners.
Some franchises have partnerships with retail stores to connect clients after a product is sold that may need cleaning, or even connections with real estate agencies to share clientele.
Pool Maintenance
While the number of pools in the U.S. is increasing, the amount of time available to busy homeowners to maintain their pools continues to decrease. More and more homeowners are opting to outsource this time-consuming job, providing a lucrative opportunity for those seeking a franchise opportunity in this specialized industry.
House Staging
With the recent popularity of home renovation TV shows, homeowners are keener than ever to make their homes Instagram worthy. Not only that, but those who are selling their home can add thousands of dollars to the sale price by staging with beautiful furniture and accessories. Those with a flair for interior design or a background in home styling would be perfectly suited to a home staging franchise. For example, Showhomes is one of the leaders in this growing industry, with a nationwide franchise network of home staging experts. They have helped over 30,000 homeowners and their realtors sell homes valued at over $10 billion!
Painting
Nothing improves the look of a room faster than a fresh coat of paint. With more Americans home now than ever, now could be the time to invest in a painting franchise.
With the $500 billion home improvement industry experiencing a boom during the pandemic, buying a painting franchise is a sound investment. Some of the benefits of this category include a relatively low cost of entry and a large target audience. Whether you're interested in opening a franchise specialized in inside or outside painting there is sure to be a brand that piques your interest.